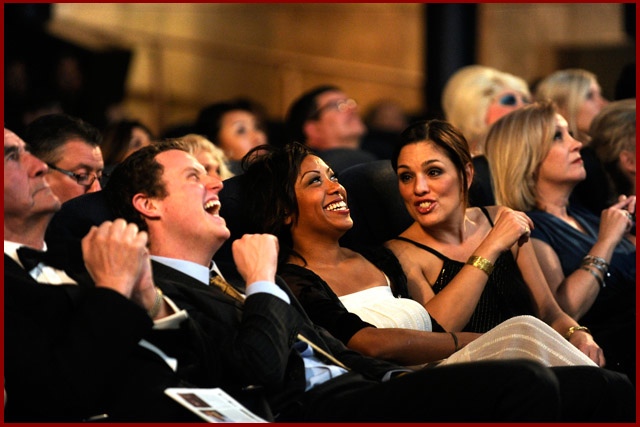 Food, Fashion, TV, Radio and Web celebrities
gathered on Thursday, January 12th at the historic Egyptian Theatre in Hollywood to celebrate the 3rd Annual TASTE AWARDS.
The event featured an exciting lineup of celebrity presenters including
the Food Network's Carrie McCully, Tanya Holland, Manouschka Guerrier, and Candice Kumai, Bravo TV's Fabio Viviani, Nyesha Arrington, and Danielle Keene, Public Television's Joanne Weir and Nathan Lyon, ION TV's Michelle Harris, food broadcast gurus Bobby Bognar, Zuzy Martin Lynch, and Susan Irby, plus food and drink humorists Zane Lamprey and Jolene Sugarbaker.
Special Achievement Honoree Awards
presented during the evening went to Kung Fu Panda 2 (The Seiji Horibuchi Award for Outstanding Animation) and Debi Mazar (Outstanding Passion). Mad Fashion (Bravo), Kaitlyn's Beauty Journal (KTSF), and Nail Files (TV Guide) were given the Breakout Fashionistas of the Year Award, and Cuisine Culture (Public Television), Ludo Bites America (Sundance Channel), and Restaurant Impossible (Food Network) were given the Kikkoman Award for Breakout Foodies of the Year.
Among the evening's Award Winners were television programs
such as the Travel Channel's "No Reservations" for Best Food Program and for Best Food Travel Series, Zane Lamprey's HDNet series "Drinking Made Easy" for Best Drink or Beverage Program, Cooking Channel's "Originals with Emeril" for Best New Series and "Extra Virgin" for Best Home Chef in a Series, Lifetime's "Project Runway" for Best Fashion or Design Program, Bravo's "Top Chef: Just Desserts" for Best Single Topic Series and "Top Chef" for the Kikkoman Award for Best Reality Series - Food or Drink, the Food Network's "Aarti Party" for Best Green or Organic Program, and ABC's "Jamie Oliver's Food Revolution" for Best Chef in a Series.
Public Television series
"Check Please, Bay Area" picked up Best City or Regional Program, and "Mexico - One Plate at a Time" received the award for Best Ethnic Program.
Web winners
included "My Drunk Kitchen" for Best Comedy Series, "Without Borders" for Best Food Travel Program, "Style.com" for Best Fashion or Design Programs on the Web, "Average Betty" for the Best Critic or Review Series (on TV or Web), "Raising the Bar with Jamie Boudreau" for Best Drink or Beverage Program, and "Food Wishes", which was presented by Austin Lau of YouTube and which won the award for Best Food Program on the Web, along with a foodie trip to Estonia. "Bon Appetit" magazine won for Best Newspaper or Magazine Program.
In the film category
, "Magnum Ice Cream Original Short Film Series by Karl Lagerfeld" picked up the award for Best Film or Documentary, and in the new Radio category, "Good Food on KCRW" got the win, along with "Come Dine With Me" (BBC America) for Best International Program.
A full list of Award Winners, Honorees, and Nominees
, plus event photos and coverage, can be seen on the site,
www.TheTasteAwards.com
.
The TASTE AWARDS celebrate the year's best in Food, Fashion, and Home lifestyle programs on Television, in Film, Online, and on Radio.
See:
The TASTE Awards
The New Media Tastemakers Summit