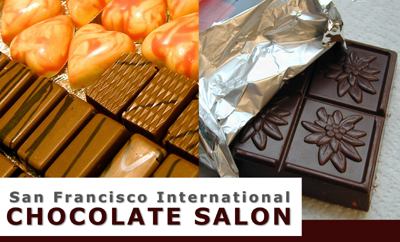 Chocolate lovers, get ready!


The finest major chocolate show on the West Coast takes place this Spring at the 2nd Annual San Francisco International CHOCOLATE SALON, Sunday April 13, 2008 at the Fort Mason Conference Center in San Francisco. Chocolate aficionados, fanatics, buyers and journalists can experience the finest in artisan, gourmet & premium chocolate in one of the world's great culinary metropolitan areas (www.SFChocolateSalon.com).

The Second Annual San Francisco International CHOCOLATE SALON participants include NEWTREE Gourmet Belgian Chocolate, The TeaRoom, Coco-luxe Confections, Saratoga Chocolates, Sacred Chocolate, Guittard Chocolate, The Chocolate Traveler, San Francisco Toffee Company, Christopher Elbow Artisanal Chocolate, Chocoholics Divine Desserts, Cosmic Chocolate, Poco Dolce, The Xocolate Bar, Jade Chocolates, Patchi Le Chocolat, Ghirardelli Chocolate, Gateau et Ganache, Charles Chocolates, Amano Artisan Chocolate, Trader Joes, Moonstruck Chocolate Cafe, Rushburn Toffee Company, Chuao Chocolatier, Vermeer Dutch Chocolate Cream Liqueur, Victorian Chocolate Molds, Le Creuset, Swissmar, Putumayo World Music, Chocolate Television and TasteTV, and many more.
This blog
from the contributors, producers and correspondents at TasteTV at
TasteTV.com
. technorati tags:
TasteTV
,
restaurants
,
video
,
content
,
food
,
Chocolate
,
wine
,
recipes
,
cooking
,
Restaurant Reviews
,
Chef
,
ITV
,
fashion
,
seafood