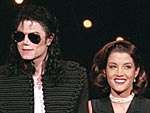 PEOPLE Magazine
has the scoop from Michael Jackson's personal chef:
Michael Jackson's personal chef says Dr. Conrad Murray was a fixture at the household of Michael Jackson – so much so that when his routine changed the day of Jackson's death, she knew something was wrong.

"I thought maybe Mr. Jackson is sleeping late," Kai Chase, hired by Jackson to cook the family meals, told the Associated Press of the morning of June 25, when she noticed that the singer's doctor had not come down Jackson's bedroom carrying a pair of oxygen tanks, as he did every morning.

The celebrity chef, 37, hired by Jackson in March, says the Jacksons' was a happy home, with a focus on healthy living.

Jackson, preparing for a series of comeback concerts in London, had fruit drinks and granola for breakfast every morning, and ate healthy foods like chicken and spinach salad for lunch with the kids. Dinners might include a seared tuna steak, and Dr. Murray was often a guest at the table. Jackson's daughter, Paris, 11, started each meal by saying grace, Chase says.

As for Chase, who expected to go to London with the family, she plans on publishing a cookbook – an idea that Jackson encouraged. The book will focus on her time with the family.
Not that it promotes her cookbook, right? Hopefully it comes with photos.
TasteTV Events include:
The Las Vegas Luxury Chocolate Salon

This blog
from the contributors, producers and correspondents at TasteTV at
TasteTV.com
. technorati tags:
TasteTV
,
restaurants
,
video
,
content
,
food
,
Chocolate
,
wine
,
recipes
,
cooking
,
Restaurant Reviews
,
Chef
,
ITV
,
fashion
,
seafood