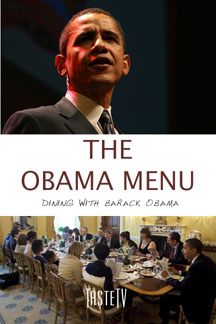 New Release Alert - THE OBAMA MENU : Dining with Barack Obama
TasteTV announces the release of its newest culinary book,
"THE OBAMA MENU: Dining with Barack Obama".

About THE OBAMA MENU:


One of the innovations of the Obama campaign of 2008 had a surprising culinary angle that took him from table to table across the nation. The campaign's famous fundraising and "person-to-person" dinners took place in people's homes, in restaurants, and in hotels, and ranged from the humble to the extravagant. The Obama Menu includes not only menus and recipes from these events, but also the stories, first-hand accounts, photographs, speeches and quotes. The result is a unique view of this American candidate for president - from a culinary perspective.


Featuring recipes ranging from the Kahala Resort in Hawaii to the Biltmore Hotel in Florida, from the kind of pie that Obama loves to the Obama Family Chili.

Spoiler alert: Multiple appearances by food guru Alice Waters and the journey to the utlimate organic White House vegetable garden!

"THE OBAMA MENU: Dining with Barack Obama" is available now on Amazon.com, and soon in Borders, Barnes & Noble, Books Inc., and bookstores nationwide.


About TasteTV

TasteTV is a leading New Media food, wine and lifestyle network, covering delicious topics ranging from restaurants, food, and wine to chocolate, cooking, fashion, and style. Its videos can be seen online at http://www.TasteTV.com, ChocolateTelevision.com, BlogCritics.org, on HULU.com, Comcast On Demand, and on over 100 television stations nationwide.

TasteTV books include "The Cafes of San Francisco," "The Chocolate Guide," "Sexy Dishes," "Chocolate French," "The Dog's Guide to Surfing" and the newest, THE OBAMA MENU: Dining with Barack Obama.


TasteTV Events include:
This blog
from the contributors, producers and correspondents at TasteTV at
TasteTV.com
. technorati tags:
TasteTV
,
restaurants
,
video
,
content
,
food
,
Chocolate
,
wine
,
recipes
,
cooking
,
Restaurant Reviews
,
Chef
,
ITV
,
fashion
,
seafood