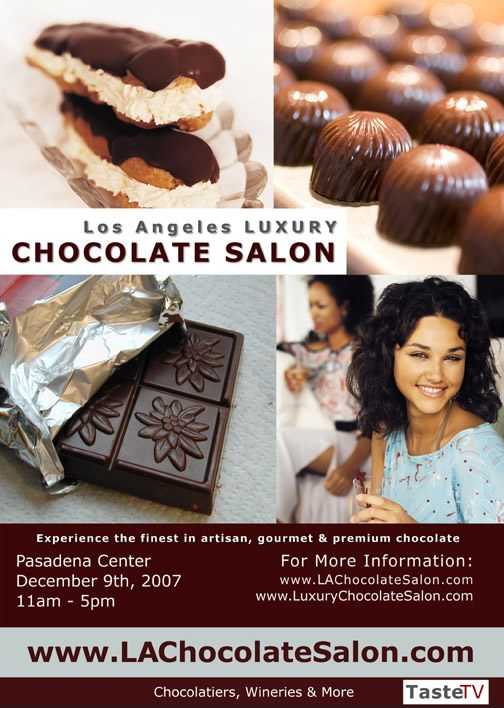 Los Angeles Luxury Chocolate Salon - December 9th
Chocolate aficionados, fanatics, buyers and journalists can experience the finest in artisan, gourmet & premium chocolate in the Los Angeles metropolitan area.

The Los Angeles Luxury Chocolate Salon highlights feature chocolate tasting, demonstrations, chef & author talks, wine pairings, and ongoing interviews by TasteTV's Chocolate Television program.

Artisan and Premium Chocolatiers
Top-end Wineries, Spirits & Beverages
A full day of events, demos, tastings and speakers
Chocolate-themed Fashion and Styles
Celebrity Chocolate Tasting Panel
Screenings of Chocolate Programs
A sample of salon participants includes
L'Artisan du Chocolat, Mignon Chocolate, Decadent Tastes, Yum! Chocolate, Vermeer Dutch Chocolate Cream Liqueur, Chuao Chocolatier, Le Creuset, Swissmar, Putumayo World Music, Chocolate Television,
and much, much more.
Go to
http://www.LAChocolateSalon.com