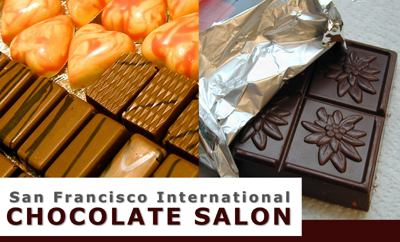 San Francisco International Chocolate Salon Returns on March 21st
Chocolate lovers, get ready!
San Francisco. March 21, 2009
. The largest major chocolate show on the West Coast takes place this Spring at the 3rd Annual San Francisco International CHOCOLATE SALON, Saturday March 21st, 2009 at the Fort Mason Center's Herbst Pavillion in San Francisco. Chocolate aficionados, fanatics, buyers and journalists can experience the finest in artisan, gourmet & premium chocolate in one of the world's great culinary metropolitan areas.
The Third Annual San Francisco International CHOCOLATE SALON participants include over 50 chocolatiers, confectioners, wineries and other culinary artisans, such as:
Coco-luxe Confections, Sacred Chocolate, Guittard Chocolate Company, Saratoga Chocolates, Marti Chocolatt, The Tea Room chocolate, Ghirardelli Chocolate Company, Neo Cocoa, Socola Chocolatier, Kikas Treats, CJ's Bitz, Vermeer Dutch Chocolate Cream Liqueur, Quady Winery, Sol Rouge Winery, Akaroa Winery, Le Creuset, Swissmar, Putumayo World Music, Chocolate Television and TasteTV, and many more
.
New 2009 Chocolate Salon additions include an actual Chocolate Wedding, and a Chocolate Art Gallery. Other Salon highlights feature chocolate tasting, demonstrations, chef & author talks, wine pairings, a live chocolate body frosting demonstration, ongoing interviews by TasteTV's Chocolate Television program, and book signings of the Intenational Chocolate Salon publication, "The Chocolate Guide (Western Edition)." The Salon will also include a Silent Auction/Raffle charity fund-raiser for Holy Family Day Home, providing care and education for homeless children.
TasteTV also announces that the
Ten Days
of Bay Area-wide chocolate events culminating with the Chocolate Salon at San Francisco's Fort Mason Center. During the week leading up to the International Chocolate Salon,
Williams-Sonoma
San Francisco and
Draegers San Mateo
and other locations will present daily chocolate recipe classes in their kitchens by chocolatiers as well as by well-known chefs and cookbook authors.
TasteTV Events include:
This blog
from the contributors, producers and correspondents at TasteTV at
TasteTV.com
. technorati tags:
TasteTV
,
restaurants
,
video
,
content
,
food
,
Chocolate
,
wine
,
recipes
,
cooking
,
Restaurant Reviews
,
Chef
,
ITV
,
fashion
,
seafood