Blockbuster video stores will have the "
Twilight
" and "New Moon" movie cast in chocolate for fans to buy... and eat.
Per
andpop.com
,
Necco sub-brand SkyBar is releasing these "New Moon" bars as well as special boxes of "Twilight" Sweethearts. But of course, they had to add a vampire twist to the flavours which include "Secret Strawberry," "Passion Fruit" and "Tempting Apple.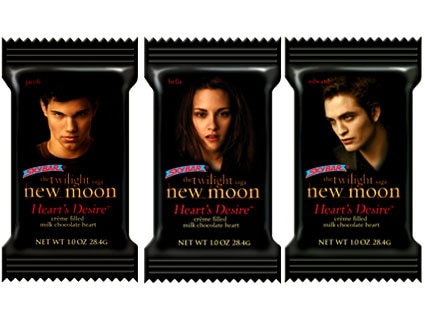 If we're lucky, we might be able to get samples for the 2009
Los Angeles Luxury Chocolate Salon
in October. (bar photo from E! online)
TasteTV Events include:
This blog
from the contributors, producers and correspondents at TasteTV at
TasteTV.com
. technorati tags:
TasteTV
,
restaurants
,
video
,
content
,
food
,
Chocolate
,
wine
,
recipes
,
cooking
,
Restaurant Reviews
,
Chef
,
ITV
,
fashion
,
seafood