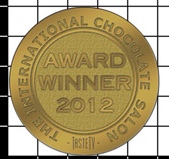 TasteTV is pleased to announce that the
2012 Best Chocolatiers and Confectioners in America Award Winners
have been released. The awards are for the titles of
Grand Master Award Winners, Master Award Winners, and Excellence Award Winners
.
The International Chocolate Salon Awards for the Best Chocolatiers and Confectioners in America
are based on the combined total number of Gold and Silver Awards received by each entrant in the 2011 TasteTV Chocolate Salons in San Francisco, Los Angeles, Napa, Seattle, and Fall (SF) and Chocolate Salon Award Competitions for Chicago and the Bridal Category.
Among the 2012 Best Chocolatiers and Confectioners in America,
the Grand Master title
goes to Amano Artisan Chocolate, CocoTutti, Seattle Chocolate Company, The Tea Room Chocolate, and William Dean Chocolates.
Master Award Winners
are Choclatique, Chocolot, Forte Chocolates, Halletts Chocolates, Jade Chocolates, Kollar Chocolates, Marti Chocolatt, MDP Signature Chocolates, Monterey Chocolate Company, Nicole Lee Fine Chocolates, Posh Chocolat, and Toffee Talk.
Excellence Awards Winner titles
go to Alter Eco, AMELLA, Au Coeur Des Chocolats, Beijo de Chocolat, Bootleg Chocolates, Butterfly Brittle, Cacao Atlanta Chocolate Co., Chocoveda, Chuao Chocolatier, Ciel Chocolatier, Clarine's Florentines, Dandelion Chocolate, David Bacco Chocolatier, Divine Chocolate, Dolce Bella Chocolates and Cafe, Droga Confections, Fabrica de Chocolate Momotombo, Gateau et Ganache, Gem Chocolates, Ghirardelli, Goat Milk Candy Co, Guittard Chocolate Company, Intrigue Chocolates, Jer's Chocolates, Kallari Chocolate, Kika's Treats, La Chatelaine Chocolat Co, Landru Chocolates, Madecasse, Marich Confectionery, Mignon Chocolate, Moonstruck Chocolate, Neo Cocoa, New Tree, Pacari Ecuadorian Organic Chocolate, Permano, Plumeria Flours, Salt Side Down Chocolates, Saratoga Chocolates, Sixthcourse Artisan Confections, Snake & Butterfly, Socola Chocolatier, Sterling Confections, Taza Chocolate, The French Quarter, The Toffee Box, Toffeeology, Valrhona Chocolates, Vibrant Chocolate, Vice Chocolates, Victoria Chocolatier, and Australia's Zokoko.
More information can be found on the Awards website,
www.TasteTV.com/intlchocolatesalon_12awards.html
Upcoming TasteTV Chocolate Salons are scheduled for
San Francisco, Seattle, Los Angeles, Chicago, Boston, Las Vegas, Austin, Dallas, Miami, Atlanta, and Toronto
. See
www.InternationalChocolateSalon.com
for more details.

TasteTV Events include: