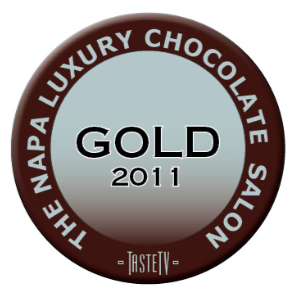 We are pleased to announce the award winners of the

2nd Annual Napa Luxury Chocolate Salon
Reviewed by our talented judges (who included award winning chefs and food and travel media), winners have been selected for various categories, including Best Dark, Best Milk, Best Truffle, Best Caramels, and more.
To view the winners, please go to
www.NapaChocolateSalon.com
The 2nd Annual Napa Luxury CHOCOLATE SALON is the most prestigious artisan and premium chocolate and confection event in Napa and Sonoma Valleys. Chocolate aficionados, fanatics, lovers and addicts can taste & experience the finest in artisan, gourmet & premium chocolate in one of the world's great culinary and wine areas. Participants include
Amano Artisan Chocolate, The Tea Room Chocolate Company, Toffee Talk, Permano, Dove Chocolate Discoveries, TOFFEEOLOGY, Monterey Chocolate Company, Kollar Chocolates, Salt Side Down Chocolates, Nicole Lee Fine Chocolates, Jade Chocolates, Landru Chocolates, Seattle Chocolate Company, Sterling Confections, CHAVA Vital Chocolate, Extraordinary Blends, Farm Fresh To You, Honest Tea, TasteTV
.
www.NapaChocolateSalon.com
TasteTV Events include: